Vallecitos crews rehabilitate manhole while protecting the environment
Post Date:
06/18/2020 1:01 PM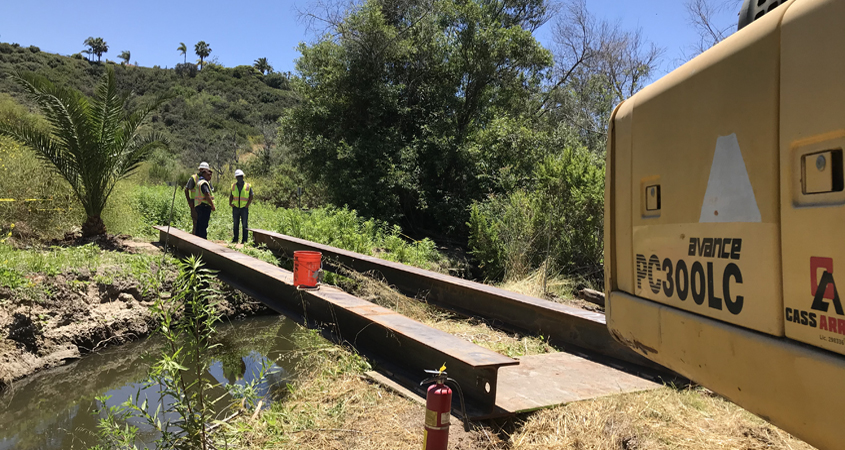 Vallecitos Water District crews sprang into action to repair and rehabilitate a manhole in danger of failing, successfully preventing a spill, which could have resulted in significant environmental damage.
Located just off Palomar Airport Road in a shared 30-foot easement with the Buena Sanitation District in Carlsbad, the manhole is part of a 30-inch outfall providing a main sewage drain for the City of San Marcos. The line feeds directly into the Encinas Wastewater Treatment plant a half-mile from the project site.
Originally constructed in the 1980s, turbulence generated by a hard right-turn along the sewer easement creates hydrogen sulfide gases. These gases corrode concrete and weakened the manhole over the years. Flooding also occurs in the area and allows rainfall to infiltrate the manhole.
Vallecitos staff became concerned the structure could fail. The result would be a major sewage spill affecting the nearby Encinas Creek Habitat Conservation Area, ultimately spilling into the Pacific Ocean a mile downstream. The Habitat Conservation Area is owned by the Center for Natural Lands Management, which supports its management through an endowment.
The Encinas Creek HCA is also part of the City of Carlsbad's habitat management preserve. It includes riparian habitat and is known to be home to state and federally protected species. The Center for Natural Lands Management works to protect the property from trespassing, nonnative invasive plant and animal species, and other issues.
The District determined emergency repairs were required. Although the Vallecitos Water District has proper easement rights to access, operate, and maintain the pipeline, the agency must avoid any impact to the existing habitat while reparing the manhole. This required some creativity by the work crews.
Read the full article and watch the video on the Water News Network.
Return to full list >>